Final Results
2018-2019 Buffalo, NY KanJam League Champion
TJ Burns
104-56 record
2018-2019 (Season 14)
TJ Burns is the new league champion
The 14th season (2018-2019) of the Buffalo, NY KanJam League will certainly be remembered as one of the more competitive seasons to date. On any given week, every game was a battle and no one team ever seemed to run away with the top spot. In fact, this is just the third season which did not include a weekly performance better than 14-2. Eleven weeks, 33 players, 137 unique teams, and 1,096 total KanJam games played - at the end of the season, a new champion was crowned! TJ Burns, a long-time player in the league, fought off the competition, putting up three first place finishes in the last four weeks of the season, and ultimately winning the league championship by a 10 point margin. For TJ, he becomes the fifth player in league history to win the league championship.
Since the beginning, this has been a random-draw league. Players are randomly paired up with a new partner each week, which makes for different matchups week by week. For this reason, stats and standings are all individual-based for this league. This marked the fifth season utilizing two "drop weeks" for points. This means each player's worst two weeks in points are dropped from the overall standings, allowing those that miss weeks to still be competitive. Of the 30 regular players, 21 of them missed only two weeks or less, which speaks to the commitment of the players and reason this league is so successful year in and year out. The "original six" all returned to play this season, these players having played in all 14 seasons of the league (Eric Klavoon, Dana Misenheimer, Josh Greenauer, Bob Greenauer, Tim Klavoon, and Phil Schneider). There were also four new players that joined this season as regulars (Connor Pierce, Shaun Pierce, Micah Fairbanks, and Jacob Fairbanks), and another three players that filled in as subs along the way (Charles Rizzo, Charlie Manzella, and Amanda Iak).
Along the way, 15 different players landed a first place weekly finish this season, including four players recording their first ever top weekly finish: Connor Pierce (twice), Shaun Pierce, Charlie Manzella, and Kyle Merrifield. TJ Burns tied for the league lead with three top finishes, and led the league in winning percentage (.650). He was also second in overall wins with 104, and threw 18 perfect games on the season, including five in the last week. TJ was very consistent all season; he only had one losing week and posted six weeks with 10 wins or more. Trailing first place by 12 points with four weeks left, TJ overtook the lead and never looked back, finishing with the season with a comfortable 10 point lead at the top of the pack.
The runner-up this season was Eric Klavoon, who, like TJ, made a run in the final four weeks, going from seventh overall up to second place. Eric led the league in overall wins with 110, was second in perfect games with 22, and second in both overtime games (64) and overtime wins (36). Eric was the only player this season to not have a losing record any week, and continues a streak of now 42 straight weeks with a 8-8 record or better. Eric had one top finish and one Instant Win on the season as well.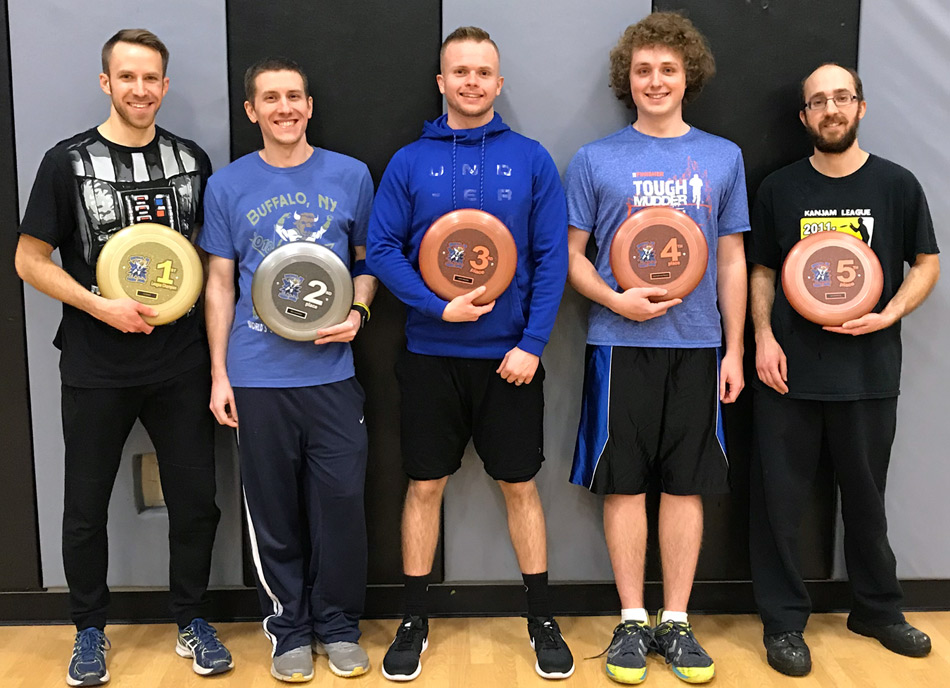 Top 5
#1 TJ Burns, #2 Eric Klavoon, #3 Matt Nelson, #4 Connor Matteson, & #5 Alex Reinecke
Depsite missing two weeks, Matt Nelson was a top player again, landing third place overall. Heading into the final week, Matt was in 5th place, but made the jump to third after another top finish, edging Connor Matteson by just one point. In total, Matt had two first place finishes during the season, and only had one losing week along the way. Matt led the league with 25 perfect games, including three weeks with five perfect games thrown. In addition, Matt was second in overall winning percentage (.646).
In 4th place was Connor Matteson, finishing in the top five yet again. Connor held on to first place overall for seven of the 11 weeks, but was passed by TJ, Eric, and Matt in the second half of the season. In overtime games, Connor was the league leader, putting up a 32-17 record, and posting the best overtime winning percentage of any player this season with .653. Connor also threw 17 perfect games and one Instant Win, as well as one top finish in Week 1.
Alex Reinecke had a great season, cracking the top five for the first time. After Week 7, Alex was in 10th place, but made an comeback in the final stretch to land 5th place overall. Alex had three top finishes during the season, tying TJ for the lead in that category, and was third with 20 perfect games thrown.
Only two players hit 100 wins or more this season, which proves how tough the competition was. Eric Klavoon led with 110 wins, marking his 14th time with 100 or more wins, and TJ Burns had 104 wins (second time). Several other players were close, but just missed, including Jon Sandino (98), Connor Matteson (96), and Alex Reinecke (96).
With conclusion of the final week of play, the top 10 players from Season 14 were announced.

There were some very close races among the remaining players in the top 10. As with the theme of several other players, Jon Sandino made an incredible comeback. After Week 6, Jon was in 15th place overall, but finished strong to land #6 overall, including one Instant Win and a first-time pairup with Phil Schneider for first place in Week 7 (spanning 7+ seasons, it was their first pairup ever in 76 weeks of league). Jon finished one point ahead of 7th place finisher, Connor Pierce, who competed in his first season of league. Connor had two first place finishes, including back-to-back weeks, and two Instant Wins. Two points back from Connor was Kyle Merrifield, landing another top 10 finish as #8 overall this season, including one Instant Win. Austin Matteson was one point behind Kyle, ending the season in 9th place, also with one Instant Win. And finally, cracking the top 10 in 10th place overall was Scott Silverman, who was one of just four players to be in first place in the overall standings at one point during the season.
While there weren't as many big records broken like the prior season, there were a few notable acheivements set. In the perfect games category, all 30 regular players (not including the three subs) threw at least one perfect game on the season, which is a new league high. The leaders in perfect games were Matt Nelson (25), Eric Klavoon (22), Alex Reinecke (20), TJ Burns (18), and Connor Matteson (17). Of the 30 regulars, half of them (15) threw at least 10 perfect games or more on the season. The final week of the season saw 20 perfect games thrown, which is the second-most overall in a single league night (the record is 24). A grand total of 152 perfect games were thrown this season by all players, and this is a new record! This beat last season's total by just one perfect game (151 in Season 13). The most perfect games thrown in a single league night this season was five, and this was done by Matt Nelson & Scott Silverman, Bob Greenauer & Matt Nelson, and Matt Nelson & TJ Burns.
2018-2019 Buffalo, NY KanJam League
Season 14
Only 15 total Instant Wins were thrown this season, which is the 5th lowest total when compared to prior seasons. Leading the pack was Dana Misenheimer, who shot two Instant Wins in Week 4, and yet another in Week 6 to become the new all-time leader in career Instant Wins. Dana passes Tim Klavoon on the all-time list, having now thrown 18 total Instant Wins in his league career. Next best on the season was Connor Pierce, shooting two Instant Wins, and there were several others that threw clutch, last-throw Instant Wins this season.
Scott Silverman led the league with 70 overtime games played, which is second-most all time in a single season (the record is 72 by both Josh Greenauer and Jon Sandino). Eric Klavoon was next best this season with 64 overtime games played, followed by Austin Matteson with 58. Scott also led with 37 overtime wins. Next best was Eric Klavoon with 36 overtime wins, followed by Connor Matteson with 35. The most overtime games played in one week was 11, and this was done by two teams, both in Week 2: Bob Greenauer & Scott Silverman and Dana Misenheimer & Jacob Fairbanks. This ties the league record, as two teams also hit 11 overtime games in a single week in prior seasons. The best performances in overtime were Austin Matteson & Kyle Merrifield (7-1 overtime record), and Alex Reinecke & Austin Matteson (6-2 overtime record). The longest game(s) of the season went to five overtime rounds. This happened six times:
Alex Reinecke & Tim Klavoon defeated Kim Miller & Trevor Trethewey (Week 2)
Adam Williams & Kyle Merrifield defeated Bob Greenauer & Tim Klavoon (Week 3)
Eric Klavoon & Alex Reinecke defeated Matt Lafferty & Phil Schneider (Week 5)
Derek Schultz & Jeff Clemo defeated Connor Matteson & Jacob Fairbanks (Week 8)
Alex Reinecke & Austin Matteson defeated Jacob Fairbanks & Scott Silverman (Week 9)
Josh Greenauer & Jon Sandino defeated Kyle Merrifield & Shaun Pierce (Week 11)
There were no weeks where a tiebreaker game or shootout was needed to determine first place on any given week, but there were two occurrences where two teams tied in record for first. On Week 1, Connor Matteson & Shaun Pierce tied with Austin Matteson & Shane Nelson at 14-2, but Connor and Shaun won the head-to-head tiebreaker to take first place that week. In another first place tie, Matt Nelson & Kyle Merrifield won the head-to-head tiebreaker against Connor Pierce & Jon Sandino after both teams finished 12-4. Although it was not for first place, there were three instances of a four-way tie in record. In Week 6, four teams tied at 10-6 for third place, and was ultimately decided by a three-way shootout among the tied head-to-head games in that group. The second instance was on Week 7, with a four-way tie at 8-8 for 5th place. The middle teams ultimately did a tiebreaker game since their series was split, while the other two teams were figured out by head-to-head matchup. The final occurrence was on Week 11 for 8th place with four teams tied at 6-10. This tie did not require any tiebreaker game or shootout, as head-to-head play broke the tie.
There were no undefeated weeks this season. In fact, there wasn't even a 15-1 finish any week. The top weekly performance of the season was actually in Week 1, as Connor Matteson & Shaun Pierce went 14-2 with four perfect games. Next best was Phil Schneider & TJ Burns in Week 8, also with a 14-2 record, but with three perfect games. As a side note, the third best was also in Week 1, but it was a second place finish. Austin Matteson & Shane Nelson went 14-2 with three perfect games.
A new record was set in the total number of perfect games thrown in a single season by the entire league. Here are the totals by season, with this season (14) highlighted in yellow:
| | | | | |
| --- | --- | --- | --- | --- |
| Season: | IW | PG | Games | OT Games |
| 01 | 27 | 19 | 772 | 116 |
| 02 | 31 | 31 | 838 | 137 |
| 03 | 24 | 33 | 784 | 163 |
| 04 | 14 | 31 | 848 | 163 |
| 05 | 20 | 69 | 880 | 203 |
| 06 | 11 | 67 | 636 | 211 |
| 07 | 14 | 72 | 872 | 199 |
| 08 | 22 | 77 | 880 | 224 |
| 09 | 8 | 83 | 704 | 225 |
| 10 | 26 | 63 | 952 | 215 |
| 11 | 32 | 109 | 1144 | 288 |
| 12 | 23 | 100 | 1152 | 311 |
| 13 | 20 | 151 | 960 | 351 |
| 14 | 15 | 152 | 1096 | 347 |
This season averaged about 12+ teams (24+ total players) each league night. There were only a few instances of current and past major tournament teams that got randomly paired up this season:
Game of Throws (Bob Greenauer & Scott Silverman) - Week 2
ChAlex (Chad Cowell & Alex Reinecke) - Week 3
Stallion Survivors (Eric Klavoon & Jon Sandino) - Week 8
Season 14 saw a total of three players join the 1,000 win club in their league career. Phil Schneider joined the group first, hitting this mark in Week 8, followed by Tim Klavoon in Week 10. Heading into the final week of the season, Kim Klavoon needed six wins to join the club. Sure enough, she just made it, getting exactly six wins in the final league night to become the 8th member to hit this milestone. It might be some time before another player joins this group. The next closest is Jon Sandino, who sits 131 wins shy. While not mathematically impossible to hit, it would take a monster season for him to join the club next season. Here is the updated list of 1,000 win players:
Eric Klavoon: 1807 wins
Josh Greenauer: 1617 wins
Bob Greenauer: 1471 wins
Scott Silverman: 1164 wins
Dana Misenheimer: 1151 wins
Phil Schneider: 1022 wins
Tim Klavoon: 1007 wins
Kim Klavoon: 1000 wins
Check out the updated all-time overall standings here.
This season saw just about everything you can imagine - clutch Instant Wins on the last throw (both in the slot and over the top), double perfect games spoiled by bounce-outs in overtime, deflections into the goal and out the slot, and even the rare deflection into the slot (Kim Miller has that honor). When competing at a high level, just about anything and everything is bound to happen, which is what makes this game so exciting - you never know what will happen next! This goes without saying, but thank you to all players for another great season! This league cannot be possible without the dedication of the players, week after week. Of the regular players, 21 of them competed in at least 9 of the 11 total weeks. The league set a new record in the total number of perfect games thrown (152) in one season. This was the first season introducing the new Top 5 personalized trophy discs, and was the second season where league was held at two different facilities. For Week 1 and Week 4, league was held at Sportsplex, while the remaining weeks were at The Apex. No question, The Apex has provided a great location for this league, marking the 8th season for the Buffalo, NY KanJam League at their facility. The next season will begin in the fall of 2019!
LEAGUE LEADERS
Wins:
Eric Klavoon
110
Winning %:
TJ Burns
0.650
Instant Wins:
Dana Misenheimer
3
Perfect Games:
Matt Nelson
25
OT Games Played:
Scott Silverman
70
OT Wins:
Scott Silverman
37
OT Winning %:
Connor Matteson
0.653
First Place Finishes
TJ Burns
Alex Reinecke
3