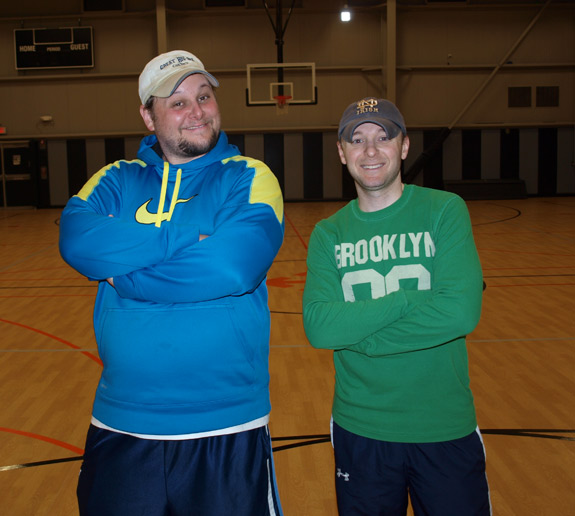 Week 3 - First Place
15-1 record
Josh Greenauer & Jon Sandino
12/1/2012 (Season 8)
Best record of the season
In a dominant performance, Josh Greenauer & Jon Sandino lost just one game and ended the night in first place with a 15-1 record. Their only loss was to Brian Ellis & Kim Daugherty. This marked the first 15-1 or better record in 25 weeks of league, dating back to Season 5 (2009-2010), where Eric Klavoon & Scott Silverman went perfect at 16-0 on Week 10. This is also Jon's second first place finish this season in just three weeks.
In addition to finishing in first place, Josh & Jon were one of just two teams to throw a perfect game in Week 3. The other team to throw a perfect game was the second place finishers, Bob Greenauer & Matt Nelson (12-4).
Brian Ellis & Kim Daugherty and Sarah Burns & Scott Silverman ended in a tie in record at 10-6 for third place, setting up a tiebreaker shootout. Brian & Kim scored more points in the shootout to land third place for the night.
In a series between Bob Greenauer & Matt Nelson and Shane Nelson & Chris Meyers, Shane threw an Instant Win in both games to win the series. Alex Reinecke also threw an Instant Win in Week 3, which is also his second Instant Win of the season.
Bob Greenauer won the Week 3 random prize drawing, taking home a $15 gift card of his choice (Applebees).
In one of the oddest and rarest plays ever, an unexpected Bucket was scored by a player in a different game. Adam Williams tipped the disc and it skipped off the top of the goal toward the next court over. Bob Bowers, who just completed a throw in a completely different game, actually tipped the disc into his goal without even realizing it. The disc that Adam tipped actually hit Bob's hand and fell into Bob's goal. It was one of the most unbelievable plays ever! Of course, it did not count for anything other than the initial 1-point, but it was certainly something unique! Check out the video of this rare play below.
In the overall standings, Jon Sandino moves ahead into first place (69), with just seven losses in the first three weeks. Josh Greenauer and Matt Nelson are tied in points with 61; however, Josh has the edge with more win than Matt to take second place. Eric Klavoon drops into 4th at 58 points and Brian Ellis moves up into 5th with 52 points.
| | | | | | | | | | | | | |
| --- | --- | --- | --- | --- | --- | --- | --- | --- | --- | --- | --- | --- |
| Place | Team | Total Points | Placement Points | Games Played | W | L | Winning % | Instant Wins | Perfect Games | OT Games | OT Wins | OT Losses |
| 1 | Josh Greenauer & Jon Sandino | 25 | 10 | 16 | 15 | 1 | 0.938 | 0 | 1 | 4 | 4 | 0 |
| 2 | Bob Greenauer & Matt Nelson | 21 | 9 | 16 | 12 | 4 | 0.750 | 0 | 1 | 3 | 1 | 2 |
| 3 | Brian Ellis & Kim Daugherty | 18 | 8 | 16 | 10 | 6 | 0.625 | 0 | 0 | 2 | 0 | 2 |
| 4 | Sarah Burns & Scott Silverman | 17 | 7 | 16 | 10 | 6 | 0.625 | 0 | 0 | 5 | 4 | 1 |
| 5 | Dana Misenheimer & Alex Reinecke | 15 | 6 | 16 | 9 | 7 | 0.563 | 1 | 0 | 3 | 1 | 2 |
| 6 | Eric Klavoon & Nick Stewart | 12 | 5 | 16 | 7 | 9 | 0.438 | 0 | 0 | 4 | 1 | 3 |
| 7 | TJ Burns & Darin Benaglio | 10 | 4 | 16 | 6 | 10 | 0.375 | 0 | 0 | 2 | 2 | 0 |
| 8 | Shane Nelson & Chris Meyers | 8 | 3 | 16 | 5 | 11 | 0.313 | 2 | 0 | 1 | 0 | 1 |
| 9 | Adam Williams & Brian Barber | 6 | 2 | 16 | 4 | 12 | 0.250 | 0 | 0 | 3 | 1 | 2 |
| 10 | Bob Bowers & Brian Juszkiewicz | 3 | 1 | 16 | 2 | 14 | 0.125 | 0 | 0 | 1 | 0 | 1 |