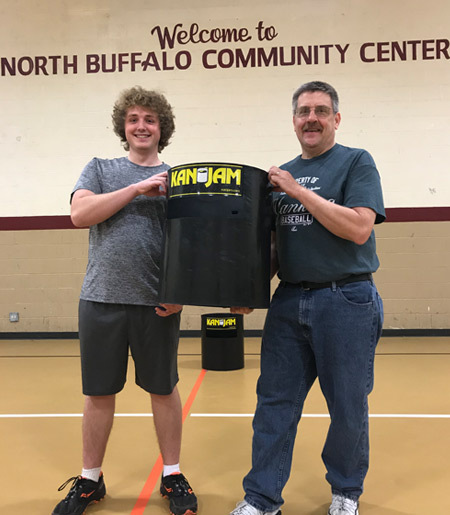 Week 2 - First Place
12-4 record
Connor Matteson & Tim Klavoon
11/4/2017 (Season 13)
Back-to-back top finishes for Tim
For the second week in a row to start the season, Tim Klavoon finished in first place, this time in his pair-up with Connor Matteson. Tim & Connor finished with a record of 12-4 to lock up first place, followed by Evan Sardo & Josh Greenauer at 11-5 in second. This league night took place at the North Buffalo Community Center, which is just the third facility over the course of 12+ years the league has taken place at.
In a tie at 10-6, Jon Sandino & Kim Klavoon beat out Eric Klavoon & Trevor Trethewey in head-to-head play to claim third place in Week 2. All ties were broken by head-to-head play, so no tiebreakers were needed. Other ties were won by Scott Silverman & Kyle Merrifield (9-7) to take 5th place over Austin Matteson & Kim Miller, Matt Nelson & Phil Schneider (8-8) beating Jamar Carroll & TJ Burns for 7th place, and Chad Cowell & Dana Misenheimer (3-13) winning their head-to-head matchup against Brian Schultz & Jeff Clemo for 10th place.
A total of 10 perfect games were thrown in Week 2. Leading the way was Connor & Tim, Evan & Josh, and Jon & Kim with two perfect games, followed by Eric & Trevor (in overtime - triple OT), Scott & Kyle, Matt N & Phil, and Jamar & TJ with one perfect game.
Oh yes, there were some Instant Wins! In fact, a total of four of them were thrown. Phil Schneider threw a slot shot for his second Instant Win of the season in a game against Jamar & TJ. Connor Matteson and Jamar Carroll also threw Instant Wins; Connor's was a slot shot, while Jamar's was an over the top shot on a bullet throw. The last Instant Win was thrown by Bob Greenauer, his first Instant Win since Season 11.
With no surprise, all 11 teams in Week 2 competed in at least two overtime games. There really was not any top overtime performance, as the overtime records were rather even across the board. However, Austin & Kim M led the league with nine overtime games played. With the exception of one team, every other team also played in at least one game that went to double overtime or more. Matt N & Phil won the longest game of the night against Austin & Kim M, going to four overtime rounds for the well earned win.
The weekly random prize drawing was won by Kyle Merrifield, and he chose a $15 gift card to AMC Theaters.
A major milestone was reached by Scott Silverman this week. After his 5th win of the night, Scott recorded his 1,000th win in the Buffalo, NY KanJam League, becoming just the 5th player in league history to reach this milestone. Congratulations Scott! Next up is Kim Klavoon (95 wins to go), Phil Schneider (97 shy), and Tim Klavoon (105 wins away).
Tim Klavoon leads the league in the overall standings with two top finishes so far and a total of six perfect games thrown (46 points), holding a five point lead over Connor Matteson (41). In a tie for third place is Eric Klavoon and Jon Sandino, each with 39 points and the same exact record of 22-10. Lastly in the top five, Matt Nelson sits at fifth place with 36 points, breaking the tie with Evan Sardo with one more win than his counterpart.
The next league night is Saturday, November 18th, 2017 at the normal start time of 7:30 pm. This league night will also take place at the North Buffalo Community Center. The event is in Team App, and all players can RSVP to reserve their spot.
| | | | | | | | | | | | | |
| --- | --- | --- | --- | --- | --- | --- | --- | --- | --- | --- | --- | --- |
| Place | Team | Total Points | Placement Points | Games Played | W | L | Winning % | Instant Wins | Perfect Games | OT Games | OT Wins | OT Losses |
| 1 | Connor Matteson & Tim Klavoon | 23 | 11 | 16 | 12 | 4 | 0.750 | 1 | 2 | 5 | 2 | 3 |
| 2 | Evan Sardo & Josh Greenauer | 21 | 10 | 16 | 11 | 5 | 0.688 | 0 | 2 | 4 | 3 | 1 |
| 3 | Jon Sandino & Kim Klavoon | 19 | 9 | 16 | 10 | 6 | 0.625 | 0 | 2 | 5 | 3 | 2 |
| 4 | Eric Klavoon & Trevor Trethewey | 18 | 8 | 16 | 10 | 6 | 0.625 | 0 | 1 | 7 | 4 | 3 |
| 5 | Scott Silverman & Kyle Merrifield | 16 | 7 | 16 | 9 | 7 | 0.562 | 0 | 1 | 4 | 3 | 1 |
| 6 | Austin Matteson & Kim Miller | 15 | 6 | 16 | 9 | 7 | 0.562 | 0 | 0 | 9 | 4 | 5 |
| 7 | Matt Nelson & Phil Schneider | 13 | 5 | 16 | 8 | 8 | 0.500 | 1 | 1 | 5 | 2 | 3 |
| 8 | Jamar Carroll & TJ Burns | 12 | 4 | 16 | 8 | 8 | 0.500 | 1 | 1 | 6 | 1 | 5 |
| 9 | Bob Greenauer & Shane Nelson | 8 | 3 | 16 | 5 | 11 | 0.312 | 1 | 0 | 5 | 3 | 2 |
| 10 | Chad Cowell & Dana Misenheimer | 5 | 2 | 16 | 3 | 13 | 0.188 | 0 | 0 | 4 | 2 | 2 |
| 11 | Brian Schultz & Jeff Clemo | 4 | 1 | 16 | 3 | 13 | 0.188 | 0 | 0 | 2 | 1 | 1 |