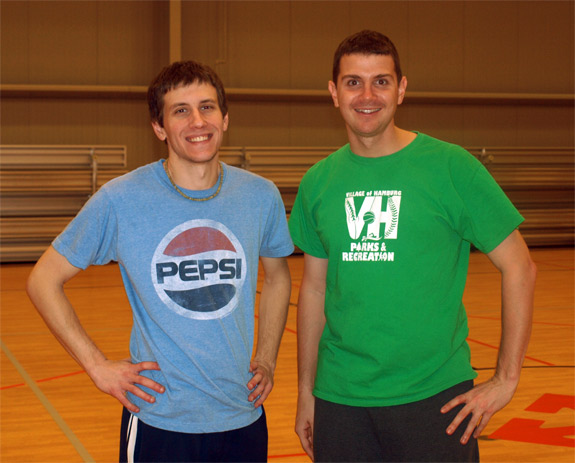 Week 5 - First Place
13-3 record
Eric Klavoon & Scott Silverman
1/5/2013 (Season 8)
Eric & Scott are the top team in the first league night of 2013
Happy New Year! With snow on the ground in Buffalo, NY, KanJam is back in action after the holiday break...indoors of course! To open up the new year, Eric Klavoon & Scott Silverman finished in first place in Week 5, posting a record of 13-3. The first place finish marked the third time so far this season for Eric and first for Scott. They beat Brian Ellis & Alex Reinecke (2nd place, 12-4 record) in a 5-overtime round game earlier in the night, ultimately making the difference for the two teams. Close behind Brian & Alex was Matt Nelson & Shane Nelson in third place, ending with a record of 11-5.
League history was made after Eric & Scott scored their fifth win of the night. Eric Klavoon becomes the first player in the league to reach 1,000 victories. With the league in its 8th season, Eric leads all players, all-time with 1,008 wins. Next in line is Josh Greenauer, who has 934 wins and Bob Greenauer with 891 wins. Mathematically, Josh could reach this milestone as well this season, if he were to play every week and win 66 of the remaining 96 games.
A total of five teams all shot one perfect game in Week 5. They were: Eric & Scott, Matt & Shane, Phil Schneider & Dana Misenheimer, Sarah Burns & Adam Williams, and Josh Greenauer & Derek Schultz. Shane leads the league this season with a total of 8 perfect games thrown. No Instant Wins were thrown this week, marking the first week this season with no Instant Wins tossed. The closest was a shot by Kenny Campbell that rocketed into the slot and out the top for only two points.
Almost half of games played by TJ Burns & Kim Daugherty went to overtime, leading the league this week with seven overtime games played. Eric & Scott were the top team in overtime with a 5-1 record in OT games. Another highlight game of the night was won by Phil & Dana, as they beat Brian E & Alex in a four overtime round game.
Brian Ellis won the Week 5 random prize drawing, taking home a $15 gift card of his choice (Applebees).
In the overall standings, Eric Klavoon jumps ahead to number one with a total of 108 points. Matt Nelson, who is one of two players to have 10+ wins every week this season, moves up into second place, trailing Eric by 9 points. Josh Greenauer is tied with Brian Ellis (the other player with double-digit wins every week) with 94 points; however, Josh has a two-win lead over Brian for the tiebreaker to put him ahead in third place. And Shane Nelson moves into the top five and sits in 5th place with 90 points.
| | | | | | | | | | | | | |
| --- | --- | --- | --- | --- | --- | --- | --- | --- | --- | --- | --- | --- |
| Place | Team | Total Points | Placement Points | Games Played | W | L | Winning % | Instant Wins | Perfect Games | OT Games | OT Wins | OT Losses |
| 1 | Eric Klavoon & Scott Silverman | 24 | 11 | 16 | 13 | 3 | 0.813 | 0 | 1 | 6 | 5 | 1 |
| 2 | Brian Ellis & Alex Reinecke | 22 | 10 | 16 | 12 | 4 | 0.750 | 0 | 0 | 6 | 4 | 2 |
| 3 | Matt Nelson & Shane Nelson | 20 | 9 | 16 | 11 | 5 | 0.688 | 0 | 1 | 6 | 4 | 2 |
| 4 | Phil Schneider & Dana Misenheimer | 18 | 8 | 16 | 10 | 6 | 0.625 | 0 | 1 | 6 | 4 | 2 |
| 5 | Sarah Burns & Adam Williams | 16 | 7 | 16 | 9 | 7 | 0.563 | 0 | 1 | 5 | 3 | 2 |
| 6 | TJ Burns & Kim Daugherty | 15 | 6 | 16 | 9 | 7 | 0.563 | 0 | 0 | 7 | 3 | 4 |
| 7 | Mike Kujawa & Dan Mayer | 13 | 5 | 16 | 8 | 8 | 0.500 | 0 | 0 | 5 | 4 | 1 |
| 8 | Josh Greenauer & Derek Schultz | 11 | 4 | 16 | 7 | 9 | 0.438 | 0 | 1 | 6 | 1 | 5 |
| 9 | Bob Greenauer & Brian Schultz | 9 | 3 | 16 | 6 | 10 | 0.375 | 0 | 0 | 5 | 1 | 4 |
| 10 | Bob Bowers & Kenny Campbell | 5 | 2 | 16 | 3 | 13 | 0.188 | 0 | 0 | 3 | 0 | 3 |
| 11 | Jon Sandino & Chris Meyers | 1 | 1 | 16 | 0 | 16 | 0.000 | 0 | 0 | 3 | 0 | 3 |