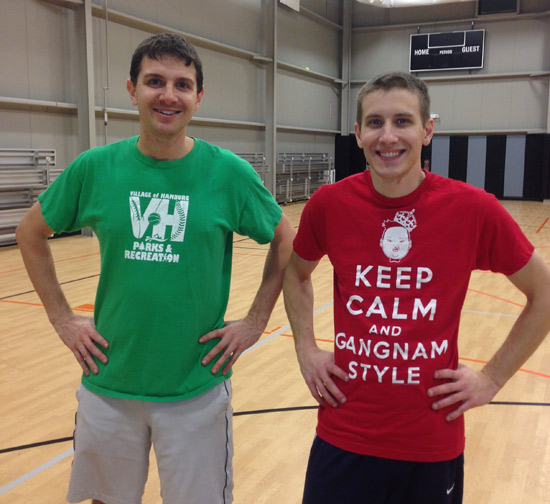 Week 4 - First Place
13-3 record
Eric Klavoon & Scott Silverman
12/14/2013 (Season 9)
Perfect games record broke by Scott & Eric
Last season, Shane Nelson and Jon Sandino broke a league record when they tossed six perfect games in Week 2. Prior to that, there were only a handful of teams that shot five perfect games in a single week. In Week 4 this season, Scott Silverman and Eric Klavoon broke that record again, shooting a total of seven perfect games, raising the bar yet again. They also finished in first place with a record of 13-3.
Josh Greenauer & Matt Nelson were close behind in second place at 12-4. And in a guest appearance by Dan Klavoon, the father-son pairing of Tim & Dan went 10-6 to finish the night in third place.
In addition to Scott & Eric's seven perfect games, two other teams tossed perfect games in Week 4. Tim & Dan threw two perfect games and Josh & Matt tossed one perfect game.
There were a total of two Instant Wins thrown. One was thrown by Dana Misenheimer on the last throw of the game against Josh & Matt and the other was thrown by Bob Bowers, in a game against Tim & Dan. For Dana, it is his second Instant Win of the season.
Josh & Matt led the field with an impressive 7-1 record in overtime, having exactly half of their games extend into overtime. One other team also played in eight overtime games, and that was TJ Burns & Bob Greenauer. Scott & Eric had two of their games go into five overtime rounds, which included a game against Tim & Dan (loss) and another against Josh & Matt (win).
Alex Reinecke won the random prize drawing, winning a $15 gift card to Tim Hortons.
Matt Nelson takes sole possession of first place in the overall standings, holding a three point lead over Tim Klavoon (74). Josh Greenauer is nine points off the lead in third place (68) and Eric Klavoon jumps up into fourth (64). Bob Greenauer is in fifth place at 58 points.
| | | | | | | | | | | | | |
| --- | --- | --- | --- | --- | --- | --- | --- | --- | --- | --- | --- | --- |
| Place | Team | Total Points | Placement Points | Games Played | W | L | Winning % | Instant Wins | Perfect Games | OT Games | OT Wins | OT Losses |
| 1 | Scott Silverman & Eric Klavoon | 21 | 8 | 16 | 13 | 3 | 0.812 | 0 | 7 | 6 | 4 | 2 |
| 2 | Josh Greenauer & Matt Nelson | 19 | 7 | 16 | 12 | 4 | 0.750 | 0 | 1 | 8 | 7 | 1 |
| 3 | Tim Klavoon & Dan Klavoon | 16 | 6 | 16 | 10 | 6 | 0.625 | 0 | 2 | 5 | 1 | 4 |
| 4 | TJ Burns & Bob Greenauer | 14 | 5 | 16 | 9 | 7 | 0.562 | 0 | 0 | 8 | 3 | 5 |
| 5 | Dana Misenheimer & Adam Williams | 12 | 4 | 16 | 8 | 8 | 0.500 | 1 | 0 | 7 | 4 | 3 |
| 6 | Bob Bowers & Phil Schneider | 9 | 3 | 16 | 6 | 10 | 0.375 | 1 | 0 | 7 | 3 | 4 |
| 7 | Kim Daugherty & Alex Reinecke | 7 | 2 | 16 | 5 | 11 | 0.312 | 0 | 0 | 4 | 1 | 3 |
| 8 | Sarah Burns & Chris Meyers | 2 | 1 | 16 | 1 | 15 | 0.062 | 0 | 0 | 1 | 0 | 1 |